Harvesting the first flower bulbs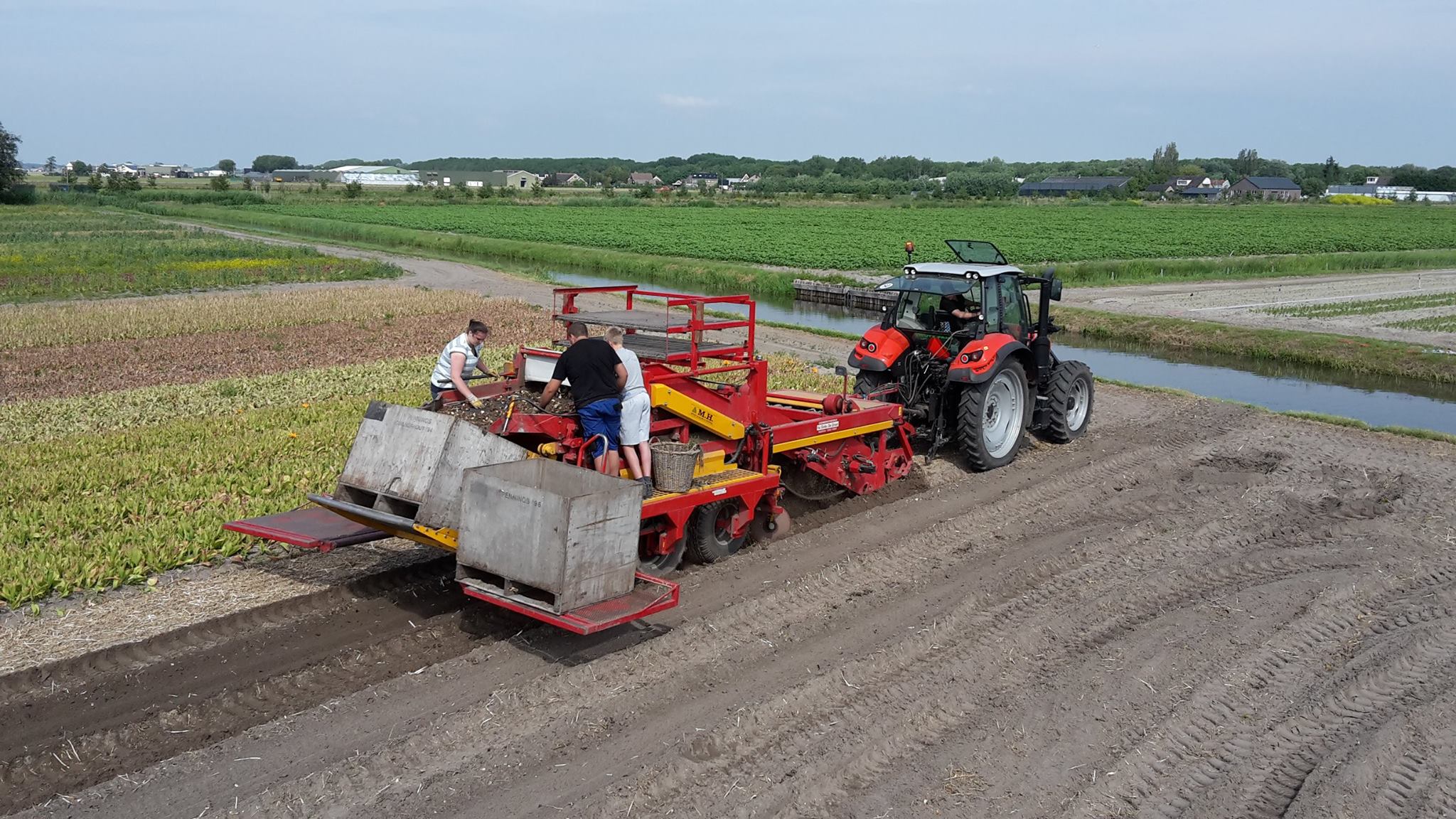 This time of the year (June) we are getting ready for the busy summer season of harvesting and exporting the flower bulbs. That means checking the bulbs, arranging the students who work at our company during their holidays, and building up the machines to work with. This spring we built some extra shed space, everything is ready. Just in time!
In the summer all spring bulbs will be harvested, sorted, cleaned and packed for further export to the customers all over the world.
The tulip bulbs will be harvested first. We check the quality and size of the tulip bulb by digging up some bulbs of the ground. If the size and color are OK, we will start harvesting the tulips. Last Tuesday we already harvested the first tulip bulbs. The quality looks good!
Harvesting
The tulip bulbs will be harvested by a big machine which drives over the land and scoops the sand including the bulbs up. The bulbs, with as less sand as possible, will be collected in a big wooden box. The bulbs will be driven back to the farm and will be placed for a ventilation unit to give them some air. They need to dry for a week, to be prepared for peeling.
Peeling the bulbs
Then, the machine (located at our farm) will peel the bulbs. Peeling means removing the old stem, the roots and the old skin and saving the baby bulbs which have grown on the bottom of the tulip bulb. Only tulip bulbs need to be peeled. The baby bulbs are our new planting material for next season.
After the tulips, half of July, it is time to harvest the daffodil bulbs. In the next blog we will tell you more about the daffodils.
Thank you for reading this article. Please join Dutch Daffodils on Facebook, Twitter or Instagram. Do you want to help to share Dutch Daffodils? Please use the social media buttons below. Thanks again!

SHARE WITH FRIENDS:
Tweet