See you next year!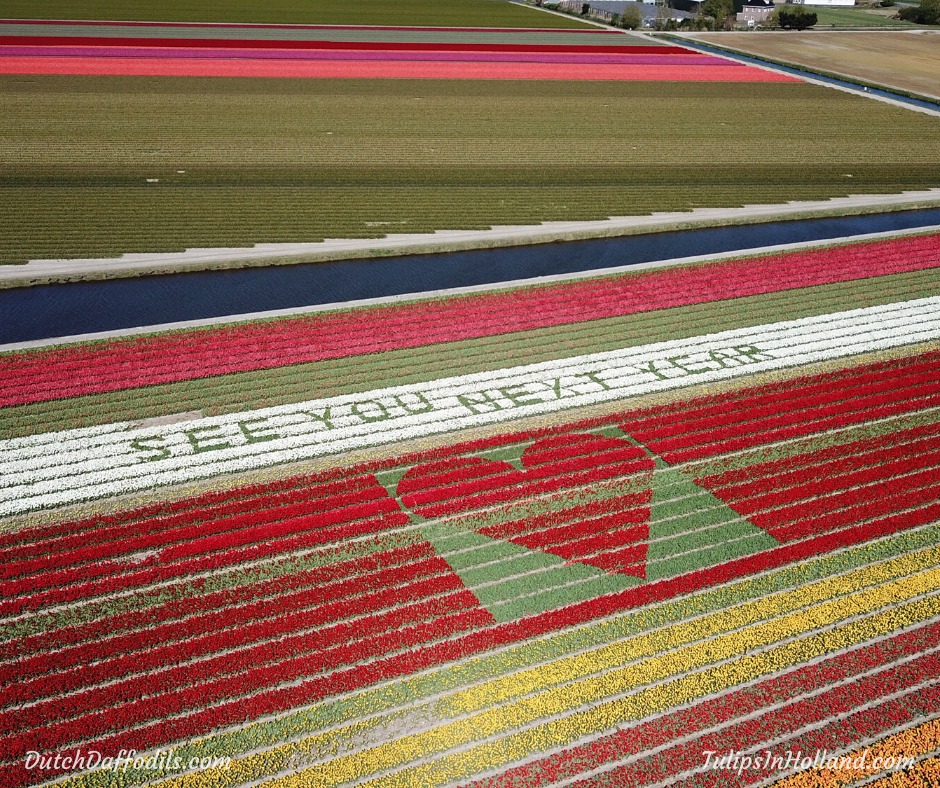 Dutch Daffodils and Tulips in Holland encourage the world in times of Covid-19
Message of hope in blooming tulip field
With the message 'See you next year' and a big red heart in tulips the families of Dutch Daffodils (Dutchdaffodils.com) and Tulips in Holland (Tulipsinholland.com), show the world that everyone is welcome in the Dutch Flower area next spring season.

Due to Covid-19 many tourists can't travel to the Netherlands to see the most beautiful tulip fields in the world. With this flower art, made by both families, they want to give a positive note, an act of kindness to everyone around the world. Because not only the tourists miss the Netherlands, but our families are missing the tourists as well.
The message was created by heading the tulips by hand in the text as around the heart. A team of five persons worked for over five hours last Sunday, to create this image over 145 feet wide. The next day the rest of the tulips are headed as well, to make sure that the bulbs will bloom beautifully next spring season in gardens around the world. The bulbs will be taken out of the ground this summer and will be sold to suppliers around the world.
The message of hope was a great succes nationally and internationally. The photo was used online a lot and even on television (CNN, NOS). A big THANK YOU to all who replied on our post with our tulip heart. We are a bit overwhelmed by your enthusiastic responses.
Dutch Daffodils

Thank you for reading this article. Please join Dutch Daffodils on Facebook, Twitter or Instagram. Do you want to help to share Dutch Daffodils? Please use the social media buttons below. Thanks again!
Photocredits: Dutch Daffodils and www.TulipsinHolland.com
SHARE WITH FRIENDS:
Tweet