Top 10 Daffodils by grower Rik Pennings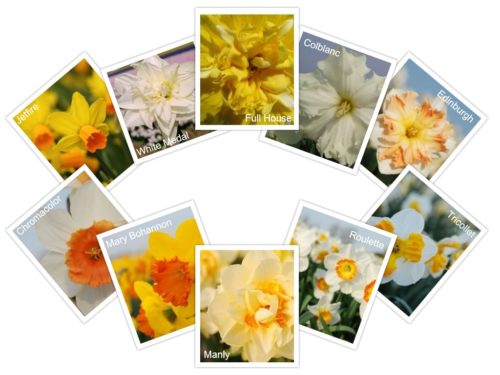 Today I want to show you my Top 10 Daffodils. I am Rik Pennings, grower of a daffodils and owner of P. Pennings Bloembollenbedrijf and Dutch Daffodils.
How to choose?
At our farm we grow more than 100 varieties of daffodils. Each unique daffodil has its own qualifications and beauty. Therefore a daffodil is not only yellow, but can be white, pink, orange, red. You'll be suprised!
The below list (Top10)  consists of strong varieties with bright colors and different shapes. Of course I love to hear what your top 10 consists of. White Medal is my all time favourite because of the bright white petals and the double shape of the flower. Also important, it is a strong variety which grows not too long. When you look at the unusual shape of Tricollet you will understand why it's in my list. Look for yourself, and choose your favourite!
I hope to inspire you with this list of daffodils. If you have any questions don't hesitate to contact us at any time. Our bulbs are exported all over the world, contact us to be informed about a local supplier.
Dutch Daffodils

Thank you for reading this article. Please join Dutch Daffodils on Facebook, Twitter or Instagram. Do you want to help to share Dutch Daffodils? Please use the social media buttons below. Thanks again!

SHARE WITH FRIENDS:
Tweet